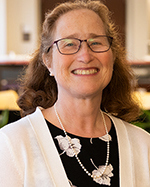 Desiree B. Pendergrass, MD, MPH
Desiree B. Pendergrass, MD, MPH is board certified in both pediatrics and preventive medicine. She earned a BA in chemistry from Texas Christian University and a medical degree from the University of Texas Medical School at Houston (now the McGovern School of Medicine). Dr. Pendergrass completed her pediatric internship at the University of Missouri at Columbia and her pediatric residency at the University of Oklahoma in Oklahoma City. After several years in private practice in Oklahoma City, she felt called to pursue medicine at a population level and completed a general preventive medicine and public health residency at Johns Hopkins School of Hygiene and Public Health (now the Bloomberg School of Public Health) in Baltimore, Maryland. During this time, she also completed a Master of Public Health with a concentration in maternal child health.
Prior to joining ACGME as an Accreditation Field Representative, she worked in several areas within medicine including academic medicine, public health, and as a pediatrician in private practice.
From 2017-2019 she served as Associate Professor of Preventive Medicine and Pediatrics at the University of Mississippi Medical Center (UMMC) with dual appointments in the School of Medicine and the John D. Bower School of Population Health (SoPH). While at UMMC, she worked with other faculty members to develop a new preventive medicine residency, and as part of a team to develop and then implement a HRSA-funded preventive medicine training grant, which included development of course work and practicum on the social determinants of health. She also served as an educator within the preventive medicine residency, including supervising the quality improvement rotation. Population health activities included medical student lectures on immunizations and preventive services for women and children; participation in several SoPH work groups and committees, including the Dispensary of Hope research group; and serving as the director of the inaugural health policy fellowship. Clinical work included supervision of pediatric residents in the continuity of care clinic. Her interests include residency education, quality improvement, policy development, the care of special populations, such as children with special health care needs, and issues surrounding immunization coverage.
Dr. Pendergrass was a member of the pediatric faculty at Texas Tech University Health Sciences Center in Lubbock (2007-2017), earning the rank of Associate Professor. There she collaborated with others to establish a stand-alone pediatric resident continuity of care clinic, the Raider Clinic, where she served as medical director. She also served on several educational committees, including the Pediatric Clinical Competency Committee and the Program Evaluation Committee. She was a member of the planning committee for Texas Tech's Annual Pediatric Postgraduate Course (2012-2017), serving as co-course director from 2015-2017. At Texas Tech she received several awards, including the Departmental Unsung Hero Award, Outstanding Clerkship Educator, and the Dean's Clinical Teaching Award. She is most proud of two honors awarded by the pediatric residents – the Opus Award and the Golden Orchiometer Award.
Previously, Dr. Pendergrass worked at the Texas Department of State Health Services (formerly the Texas Department of Health); where she developed medical policy for the Children with Special Health Care Needs (CSHCN) program and the Medicaid Comprehensive Care Program. She was also the clinical coordinator for the Texas Medical Foundation, providing expertise in the area of population-based medical quality improvement.
She and her husband, Dr. Peter W. Pendergrass, a preventive medicine physician, have recently relocated to Austin, Texas to be closer to family. They have two grown children, Katherine and Peter Jr., who are twins.